What are the NRE costs?

NRE (Non Recurring Engineering) is a fee that refers to each and every step unique to your project that an EMS partner must take to prepare for the production of your device. It is not a recurring fee, but a one-time fee that is only charged when a new project is launched (or in some cases when lifting a revision of a product).

NRE includes:

Solder stencil design and fabrication efforts; 
Programming of SMT machines, selective soldering units, automatic optical inspection equipment, other equipment involved in the process;  
Development of SMT oven soldering profile;
Preparation of PCB production documentation;  
Design and execution of dedicated testers or software test procedures;
Preparation of any dedicated fixtures and tools used in the process; 
All costs related to the preparation of production documentation.

Each of the above activities is dedicated to your project and therefore cannot be used in the production of other devices. 
We have prepared a time-limited offer: reduction of NRE costs by 50% (up to €1,000!) Just send us an inquiry until by the end of the month! Please send us an email at ems[at]jm.pl or fill in the contact form.
Energy and labour costs in Poland are lower than in Western Europe, inside the common EU market. In addition, the tense international situation makes friendshoring increasingly popular.
JM elektronik's added value is human capital. Silesia has been an industrial region for centuries. We rely on a multi-generational work culture in manufacturing and a high percentage of people with technical education. JM elektronik's production facility is located in a place where electronics has been produced for 70 years. These facts directly result in a higher quality of service.
We offer our customers the advantages of being located in the heart of Europe. We are able to reach the most remote location in Germany in 8 hours, and most European destinations in one day, which, combined with our own means of transport, allows us to eliminate all potential emergency situations encountered by shipping companies. We are located at the junction of two of the most popular roads in Poland, the A4 and A1 motorways, just 45 kilometres from the nearest airport. The location of Poland in Europe and JM elektronik in Poland results in more efficient logistics.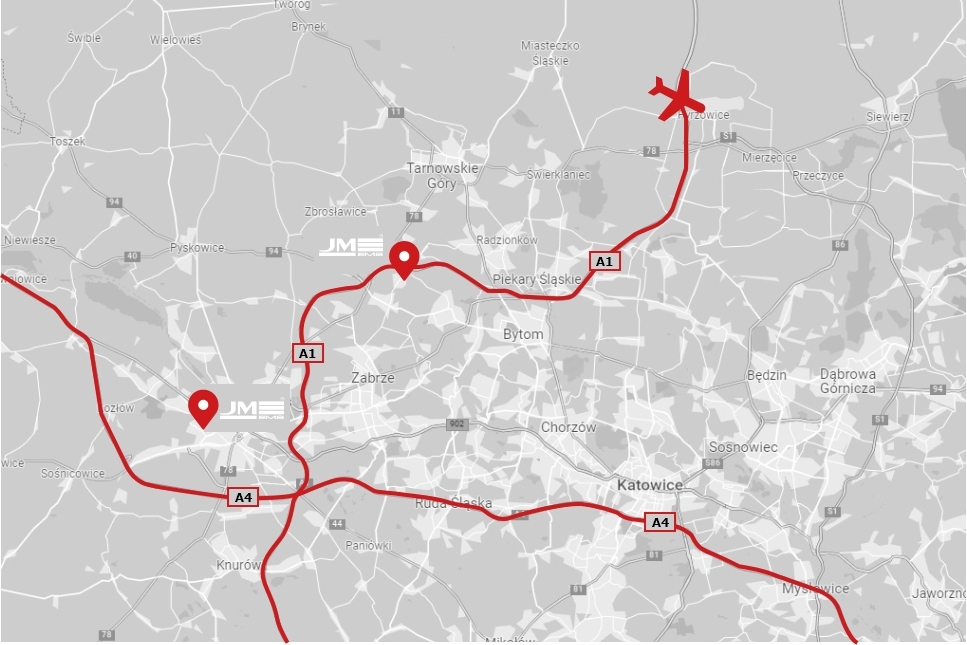 JM elektronik has extensive experience of working with overseas customers, as more than 50% of our production is exported. Benefit from our experience and know-how in design services, our competence in building our own automated ICT/FCT test systems, our offer to be a hub for your company in areas beyond PCBA, including the sourcing of housings, metal mechanical components, printing of packaging or manuals, etc.